In today's engine technology, many consumers are making the switch to synthetic oil in order to protect their automotive investment. Synthetic oil has excellent benefits, such as being not susceptible to freezing, not breaking down on higher temperatures, and lasting longer between oil changes. If you are one of these consumers who made the switch to using synthetic oil, do you know what type of synthetic oil is going in to your engine? Is it a semi synthetic, or is it a full synthetic oil?
What's the difference?
A semi synthetic oil is a blend of conventional motor oil and synthetic oil. It carries some benefits of a full synthetic oil, however is not as resilient as a full synthetic, as it can still break down due to the conventional oil. Vehicles that can benefit from a semi synthetic oil over a conventional oil would be older makes/models.
A full synthetic oil reduces friction, is resilient to fluctuations in temperature, prolongs engine life, maintains the functionality of high performance engines, increased fuel economy, and longer intervals between oil changes. A full synthetic oil can also be make/model specific, as there are different additive requirements for each high performance engine.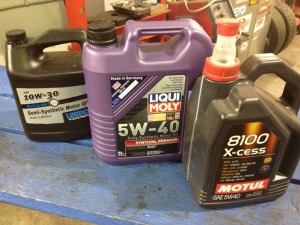 The next time you are in for an oil change, make sure you ask whether you're getting a semi synthetic oil or a full synthetic oil. They may be charging you a full synthetic oil change price, but providing you with a semi synthetic blend.
At Joe's Unlimited Imports Auto Repair, we carry all different grades of oils including the highest quality, 100% German full synthetic oils. We explain to all our customers what their vehicle's engine requirements are, and provide them with the necessary information to make an informed decision on what type of oil to put in to their vehicle. Book your next oil change in Richmond with us!